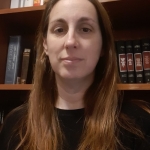 Loturi trimise:
8
Loturi primite:
5
Loturi în progres:
2
Stele primite:
5.00
Ţara:
Uruguai
Limbi:
English and Spanish
Membru din:
04 Februarie 2022
Ultima activitate:
04 August 2022
Hello! I am a 46-year-old economist who lives in Montevideo, Uruguay. In addition to working in a government office in charge of a public procurement regulation team, I am a professor of Macroeconomics and International Trade at the University of the Republic. I enjoy family life with my husband and children aged 9 and 11, traveling, reading, writing and... above all, philately!

I collect stamps (and philatelic material in general) from all over the world. I collect a wide range of subjects, including: Flora, Fauna, Sports, Painting, Cartoons, Red Cross, Lighthouses, Windmills, Firefighters, Literature, Airplanes, Ships and Sailors, Bridges, Trains, Explorers, National Parks, Mountains, Castles ... but I am also open to other topics. Plus I love surprises!

I collect both mint and used stamps. I do not collect stamps that have not been issued by postal entities (for example, stamps from countries such as Ajman or Manama), nor those that have been pre-canceled but have not been used (CTOs). I love souvenir sheets and first day envelopes on my topics.

I prefer recent stamps (after 2000) or very old ones (before 1950).

I offer both Uruguay stamps and world stamps, mint and used, and any other postal material that could be of interest to my exchange partners.