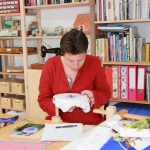 Loturi trimise:
520
Loturi primite:
528
Loturi în progres:
8
Stele primite:
4.90
Ţara:
Germania
Limbi:
Dutch, English, German
Membru din:
02 August 2016
Ultima activitate:
17 Aprilie 2021

fairytale78 este un suporter
I am a 42-year-old Dutch textile artist. Together with my husband and the cats Timmie and Sammie I live in a small rural village in the beautiful Bavarian Alps. Due to my professional career, I have lived in several parts of Germany, the Netherlands and the United Kingdom. Ever since I was three years old, I've collected stamps. They are a perfect way to learn about other cultures. I collect both mint and stamped from around the globe.

I prefer stamps after the year 2010. Please no CTOs, or definitives and no stamps on paper. Please take care to only include undamaged stamps. As I am a Dutchie living in Germany, I'd rather not receive German or Dutch stamps.

Please note: sadly, the quality of the stamps I am receiving has declined a lot since I first joined. This means that I usually do not dare to pass those stamps onto the next collector. Instead, I order a 4kg box of stamps on paper from Bethel, a workplace for handicapped people, every other month. I discard all common stamps and only process the special and/or recent ones. As so many people on this site have now profiles that state that they don't want German stamps, I am now buying 'Kiloware`of rare countries to keep them satisfied. I thus put quite some effort in sending my lots. Can I please ask that you do the same for me?