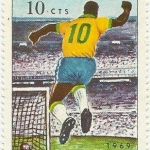 Loturi trimise:
44
Loturi primite:
42
Loturi în progres:
9
Stele primite:
4.77
Ţara:
Brazilia
Limbi:
Portuguese, English and Spanish, also a little bit (Italian, German and French)
Membru din:
13 Decembrie 2018
Ultima activitate:
28 Septembrie 2021
ATTENTION : Due to Covid-19, the Brazilian Post Office doesn´t send or receive mail from some countries in Asia (Brunei and Kazakhstan), Africa, Oceania, some Islands (like Canarias Islands) and South/Central American countries.

Suggestion for sending:
All kind of USED stamps after Y2K (prefer COMMEMORATIVES to REGULAR (small) stamps and NO CINDERELLAS) and if you don´t have USED i accept MINT stamps from your country
REGULAR (small/medium) stamps and CTOs (less them 15%).

MY STAMPS COLLECTION :
- Soviet Union, Russia and New Republics (I really like URSS History but I´m NOT comunist). I don´t have some stamps/minisheets years 1991 to 2003 and 2009 to 2020;
- Central, Eastern and Southeastern Europe stamps after Y1999 / stamps and minisheets in Euro
- Islands countries stamps (Greenland, Iceland, Malta, Australia (not adhesive), NZ, Japan,...) all after Y2k (2000);
- Small countries stamps (Monaco, Vatican, San Marino, Luxembourg, Liechtenstein, Andorra,...) all years but I prefer stamps in EURO;
- Latin American countries after Y2k.

NEW STAMPS COLLECTION (different shapes and materials / surface texture / holographic / 3D).

Also I collect Topical stamps (Fauna/Flora/Sports/Transports) / CEPT stamps / UN stamps / FIFA WC and UEFA Cup / Olympic Games - after 1980 / Winters Games / Joint Issue stamps all countries (if possible, you can send using this stamps, i´m collector of stamped envelope).

Accept Brazilian stamps too (it´s difficult to buy and receive Commemorative stamps, not Adhesive, in Brazil).

Special stamps (like minisheets) or something like coins, banknotes and so on are bonus surprise for me.

Also love postcards from all over the world (skylines, bridges, lighthouses and something related to touristic places) and FDC's - LOVE Eastern Europe hystoric places (Eesti, Hungary, Czech R, Croatia, Serbia, Austria, Poland).

Take care, safe and healthy in this "crazy" world.