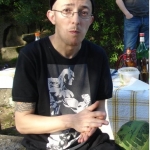 Loturi trimise:
1
Loturi primite:
1
Loturi în progres:
0
Stele primite:
3.00
Ţara:
Portugalia
Limbi:
Portuguese, English
Membru din:
02 Iunie 2018
Ultima activitate:
30 Iulie 2018
Hello from Porto, Portugal!
My name is Pedro and I'm begginning collect stamps from worldwide.

At the moment my preferences are:
Isle of Man, France (1970/2000), Danmark (Before 1976), Malta (before 2000); Portugal and colonies and Dead Countries. African and Islands stamps too.

But Im happy with what you send. Dont feel pushed.
This is just where I focus on. :):):)
I understand this club as a friendly one and I will happy with what you send...

Any stamps you send me are ok for me. I will like any stamps you send me as far as they are not damaged. I do recognise your efforts in the simple fact of preparing 100 stamps, putting them into an envelope, paying some money to send it. I will always appreciate this friendly effort as if you are doing a gift. You have my 5 star rating for sure :)

I will appreciate your efforts. Never a dissapointing comment :) Always friendly ones :)

I love old stamps too :)


P.s Feel free to contact me with swap requests :) Even more fun if it's a topical swap, makes it a mission !